At 9.30 am in the morning, and my phone beeps with messages from my friend. Meet me in the evening! And take me to a place which has the best tacos! She is weird I know!
I quickly google a café with the best tacos in Delhi and find one, thankfully. Google is a blessing and a saviour at the same time. With nearly 400OO cafes sitting empty, it was difficult to know what was open and what wasn't. But then why fear? When Google is there! (sounding cliché? right?!).Here you do not need to rely on the dated words of the mouth.
''Go
straight to Saket and then to left, you will find a tea stall and then you can
ask someone from there.''
Who in
the right mind can remember that?!
Folks, don't search in google to read a blog on best tacos but they do it because they are hungry and they do not want their hard-earned money to not go in waste.
Google my business makes it easier for your customers to find your physical location. Google My Business is the best practice you follow to get your business information listed on Google Search Engine, this helps you get more presence when your business or keyword is searched on the search engine. If you are a local business, then it's good to be seen when hungry customers are googling. Now before you start your listing one should know the best digital marketing practices, in order to save some hassle, I have made mentioned them below.
Do's
Always use your business account or primary account to create a Google My Business Listing.
In case you have hired a freelancer or agency to create a listing for you, ask them to either add you as owner of the listing or handover the email address.
Always give relevant and true information to your customers in that way it seeks the interests of the viewers.
Don'ts
Don't make a fake account to create Google My Business Listing.
Don't create a new username and then forget password.
Don't create a listing on your competitor's name (Google will penalise you)
Don't Put fake Reviews on Listing.
Don't stuff listing with keywords unless necessary.
Email us at nayan@sociolabs.in or call our sales team at +91 96507 50546 for any digital marketing service including SEO, Web Designing and Development, Content Marketing, and Social Media management. If you want, you can also fill up the form to get a callback from us or ask any query.
Now, let
begin on how to create your own Google My Business listing:
Step 1: Log into the Google Account you want link or manage with your business (or else make a Google account if you don't have one).
Step 2: Go to google.com/business and select "Start now" in the top right-hand corner of the screen.
Step 3: Enter Your Business Name.
Example: My Business name is Socio Labs, I will enter "Socio Labs"
Step 4: Enter Business Category. Make sure you choose the most accurate category possible to describe your business and services – this is where you are defining and informing Google about the type of industry and customers that should see your business listing.
Step 5: Enter your business address.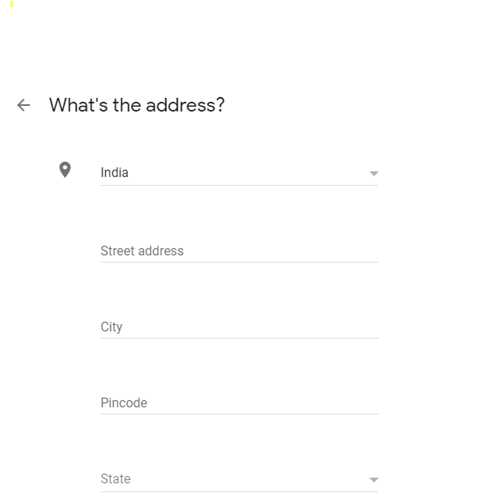 Step 6: If you go to your customers' locations, rather than having them come to you, check the box "I deliver goods and services to my customers." And if you work out of your house or another address you don't want publicly shown, Check "Hide my address (it's not a store) Only show region." Finally, select your delivery area.
Step 7: Add your business phone number or website. Make sure the details entered are valid
and true. A wrong link or digit can cause trouble later.
In case you don't have a website, don't worry just leave the column empty and move ahead.
You can always add your website once you get, in case you need help with a website or facing problems with current one, ping me nayan@sociolabs.in and I will guide you.
Step 8: Choose a verification option. If you're not ready to verify your business yet, click "Try a different method" → "Later."
Congratulations Buddy!!! Your Business is now Your Business and None of Some Else's Business.
Couldn't help, love these puns and memes
Now go ahead and try multiple options in Google Listing and make sure you verify your business listing.
Founder, Leo, digital freak and crazy about anything that is related to digital marketing. Featured in Google digital learning fundamentals of digital marketing. A competent leader at Toastmaster international. My colleagues call me the " penny pitcher" as I am the gateway to the clients! Although I don't enjoy being an all-rounder I have an eagle's eye for the best talent around. A " fame bringer" if that's a word. So, if you are thinking of asking for any kind of help related to digital marketing! I am there to help you and guide you.